GaLaBau Newsroom
"Greater Greener Cities": World Urban Parks Europe Congress at GaLaBau 2022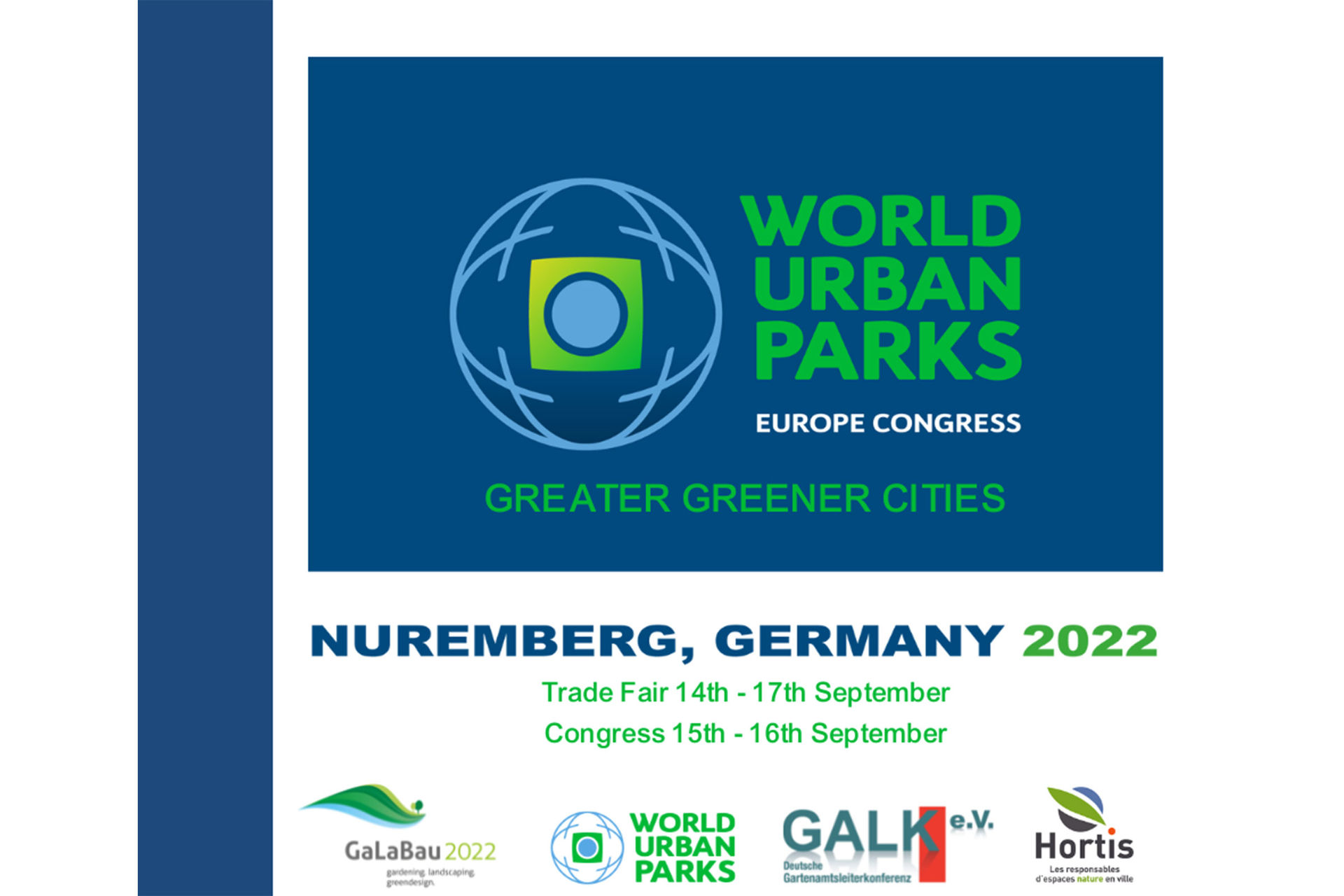 With the World Urban Parks Europe Congress, GaLaBau 2022 is offering a central platform for forward-looking topics in urban green design and planning for the first time. The theme of the Congress, which takes place on 15 and 16 September 2022, is "Greater Greener Cities: Nature-Based Design Solutions for Urban Life and New Ways of Developing and Managing Green Spaces in this Context." The event is being organised by NürnbergMesse in association with World Urban Parks and supported by GALK e.V., Germany, and Hortis, France. GaLaBau, the leading international trade fair for urban open and green spaces, will be held for the 24th time in the Nuremberg Exhibition Centre from 14 to 17 September 2022. In 14 exhibition halls, around 1,000 exhibitors will be presenting their complete offerings for planning, constructing and maintaining gardens, parks and green spaces.
The themes of the World Urban Parks Europe Congress are primarily aimed at planners from federal, state and local authorities as well as public and private clients, landscape architects and designers. Congress presentations will cover the following themes:
Green-Blue Infrastructure – Policies & Planning
Urban Green Design Practices
Nature-Based Solutions for a Climate Resilient Urban Future
Citizen Participation in Urban Greening
The international speakers will include, for example, Dr Nathalie Röbbel from the WHO; Gilles Namur, Deputy Mayor Grenoble City (EUROPEAN GREEN CAPITAL 2022); Dr. Michael Fraas, economic affairs and science advisor for the City of Nuremberg; and Henrik Bos, President of the European Landscape Contractors Association (ELCA). The presentations will be delivered in English and translated into German.
All information about the Congress themes and speakers is available at:
www.galabau-messe.com/en/visitors/tickets/wup
2022 is the European Year of Greener Cities
The key theme of the World Urban Parks Europe Congress is tailored to the "European Year of Greener Cities 2022" sponsored by the EU. The aim of this year's action is to make urban environments greener and to increase awareness of the benefits of green spaces in an urban environment – for example, environmental benefits as well as benefits linked to health, culture and education. The European Year of Greener Cities will also explicitly focus on topics like green infrastructure and greener public procurement.
Working together for a climate-friendly future ...
… is the key theme of GaLaBau 2022. Climate change is the biggest global challenge of our time and the "green sector" is actively helping to mitigate it in many areas of gardening and landscaping. GaLaBau 2022 will showcase innovations, trends and products that have a positive impact on climate change. The booths of participating exhibitors and all the relevant points of the supporting programme will bear the GREEN-BLUE PATH symbol, which will serve as a visual navigation tool for visitors. The World Urban Parks Europe Congress is also part of the GREEN-BLUE PATH.
Sponsorship options for exhibitors at GaLaBau 2022
Exhibitors registered for GaLaBau 2022 have the option of becoming sponsors of the World Urban Parks Europe Congress as a way to increase the visibility of their company and its product innovations.
www.galabau-messe.com/en/exhibitors/participation/application/wup-congress
 
Contact for sponsors
Stephanie Mangold-Gencel
T +49 9 11 86 06-88 60
stephanie.mangold-gencel@nuernbergmesse.de
Get your ticket now!
Ticketholders for the World Urban Parks Europe Congress can attend GaLaBau 2022 for free: 
www.galabau-messe.com/en/visitors/tickets/wup