GaLaBau Newsroom
Working together for a climate-friendly future: GaLaBau 2022 debuts key theme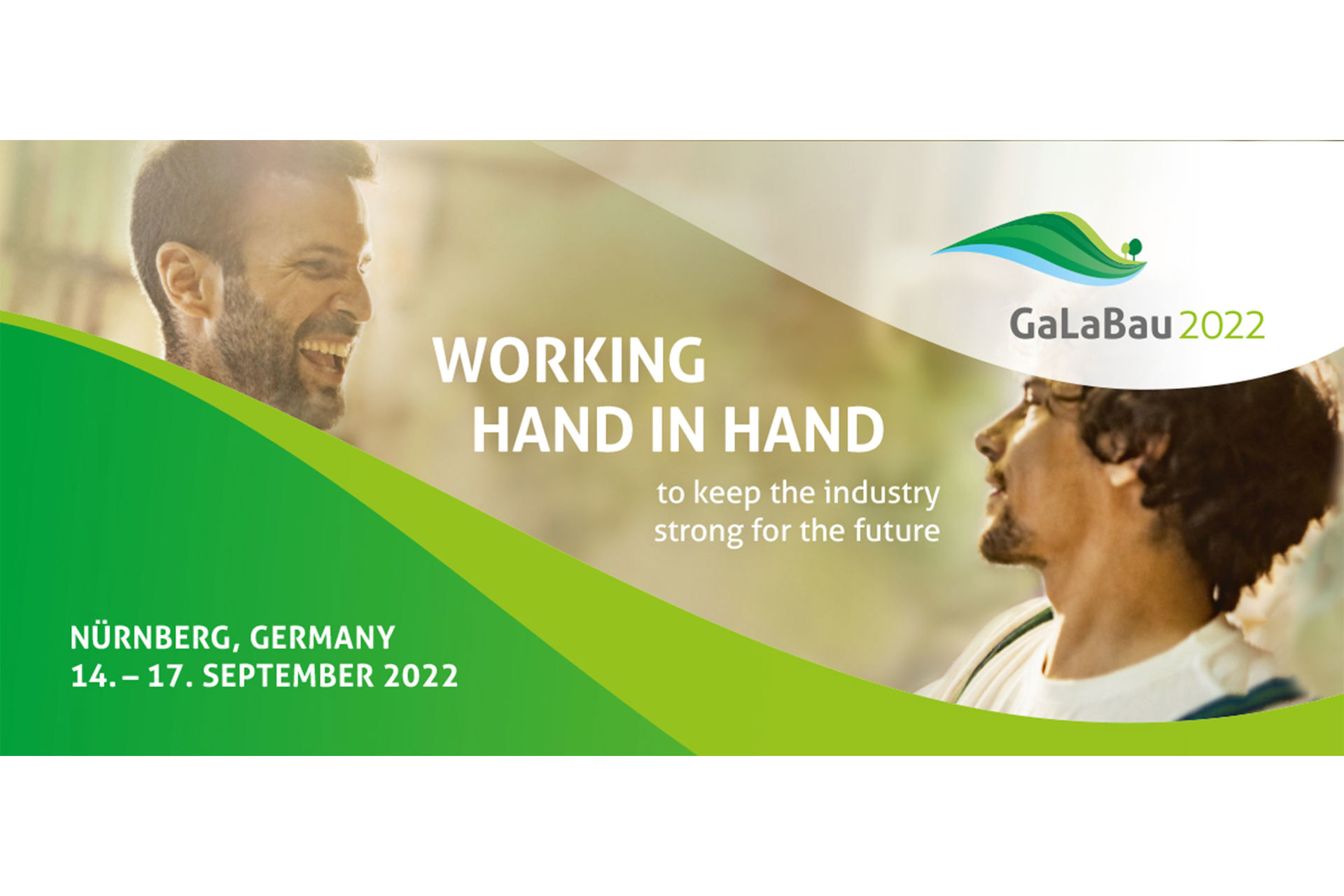 GaLaBau, the leading international fair for urban green and open spaces, returns to Exhibition Centre Nuremberg from 14 to 17 September 2022. With trending topics, exciting innovations and a wide-ranging programme, it has plenty to attract industry professionals. The "family reunion" for the gardening and landscaping sector will have a distinctive feature this time round: For the first time, the 14 exhibition halls displaying the complete range of solutions for the design, construction and maintenance of gardens, parks and green spaces will be linked by a key thread. "Working together for a climate-friendly future" will be this year's focus. Dedicated primarily to the challenges of climate protection, it will be given a high profile at the venue through the GREEN-BLUE PATH format. In this interview, Stefan Dittrich, Director GaLaBau at NürnbergMesse, and Lutze von Wurmb, President of the BGL (German Association for Gardening, Landscaping and Sports Ground Construction), the honorary sponsor of GaLaBau, explain the background and provide some insights into the preparations for this key theme.
 
Mr Dittrich, you recently called on GaLaBau exhibitors offering suitable products and solutions related to the key theme "Working together for a climate-friendly future" to apply to be one of the specially featured companies at the event. What submissions have you already received?
Stefan Dittrich: Our expert jury, consisting of representatives of the BGL, the bdla (Association of German Landscape Architects), municipalities and NürnbergMesse, has been impressed by the innovative submissions by exhibitors, and has already approved a lot of fantastic projects and solutions for inclusion. They cover all display categories at GaLaBau, from design to construction and maintenance of urban, green and outdoor spaces. To name just a few examples: Visitors can look forward to innovations relating to the use of 100% recyclable materials, resource-conserving manufacturing and product use, reducing CO2 in the supply chain, environmentally friendly drive systems, low-emission and zero-emission solutions, climate-friendly trees, and long-lasting products. As an exhibitor, do you also offer innovative products or solutions to these or other issues relating to the theme "Working together for a climate-friendly future"? Have you demonstrated extensive engagement in this area, making you a trailblazer in the gardening and landscaping sector? Then apply now to be a stop on the GREEN-BLUE PATH! For information on how to apply please go to: www.galabau-messe.com/green-blue-path
Mr von Wurmb, why is this topic so important for the gardening and landscaping sector, and therefore with good reason the key theme at GaLaBau 2022? What contribution does the gardening and landscaping sector make to climate protection?
Lutze von Wurmb: The gardening and landscaping sector is of systemic importance for climate and species protection. More well-maintained green spaces for towns and cities, more of the right kinds of trees to function as a bulwark against the effects of climate change and to protect species, green roofs and facades combined with solar panels, climate-resilient plants and sustainable, resource-saving garden designs: these are the trends that we as a sector have been pursuing intensively for years now. Our landscape gardeners show that sustainability, biodiversity, climate protection and aesthetic, well-maintained gardens and parks are not mutually exclusive. On the contrary: We are there to reconcile these apparent contradictions through a professional and forward-looking approach. More than 20 years ago, we as the BGL launched our private garden campaign, which today also includes the "Save the front garden!" and "My dream garden" schemes. Since 2015, the BGL initiative "Let's green the city" has reached several thousand decision-makers in towns and municipalities. These are all BGL initiatives that help mitigate climate change. As a lobbying group, we are of course also an important driving force at federal level and in the political arena. Specifically, we are calling for a "green billion" to be spent every year on public green spaces. We also want to see much more urgency and activity when it comes to the establishment and maintenance of more urban green. We are incredibly pleased that the key theme at GaLaBau 2022 will draw even more attention to these issues and facilitate access to innovations in this area.
Mr Dittrich, how will the key theme specifically manifest itself at the fair?
Stefan Dittrich: The key theme is a major constituent of the entire trade fair action and will therefore naturally also be given special prominence in the design of the event. Our aim is to attract attention and ensure maximum visibility: The new GREEN-BLUE PATH is therefore a way of bringing the topic to life at the venue and will provide a visual navigation tool to all visitors. For example, special flags at the exhibitors' stands will show that products and solutions on the theme "Working together for a climate-friendly future" are on display at that stand. The relevant presentations in the various forums, the e-mobility zone in the demonstration area, and the World Urban Parks Europe Congress are also some of the programme elements to feature in the GREEN-BLUE PATH. In the exhibition catalogue, our exhibitor and product database, supporting programme overview on our website and in the app, all relevant exhibitors, presentations and programme features are highlighted with the GREEN-BLUE PATH label. The topic will in any case be impossible to overlook in our advance communications and at the venue itself.
These exhibitors at GaLaBau 2022 are already showcasing their innovations as a station on the GREEN-BLUE PATH:
ACO Ahlmann SE & Co. KG
Baumschule Lorenz von Ehren GmbH & Co. KG
bdla
BGL
BUGG
Deceuninck Germany GmbH
Deutsche Cuxin
ETESIA SAS
F.C. Nüdling Betonelemente GmbH + Co. KG
Fachagentur Nachwachsende Rohstoffe e.V. (FNR)
Gebr. Sträb GmbH with brand Ferradix
Grad Concept GmbH
HAHN Kunststoffe GmbH
Hansegrad Klimabauten
HÜBNER-LEE GmbH & Co. KG
JOUPLAST - TMP CONVERT SAS
KANN GmbH Baustoffwerke
Köppl GmbH
Krengel Landtechnik GmbH & Co. oHG
Kronimus AG
Linddana A/S
Schäffer Maschinenfabrik GmbH
Verver Export GmbH
Wilhelm Ley GmbH Baumschulen
Wilmers Kommunaltechnik GmbH
Apply now!
Registered exhibitors for GaLaBau 2022 can still be part of the GREEN-BLUE PATH. For information, please go to: www.galabau-messe.com/green-blue-path